Commentaries
Main
Japan's Foreign Policy towards the Hashemite Kingdom of Jordan
As the running mate of peace and prosperity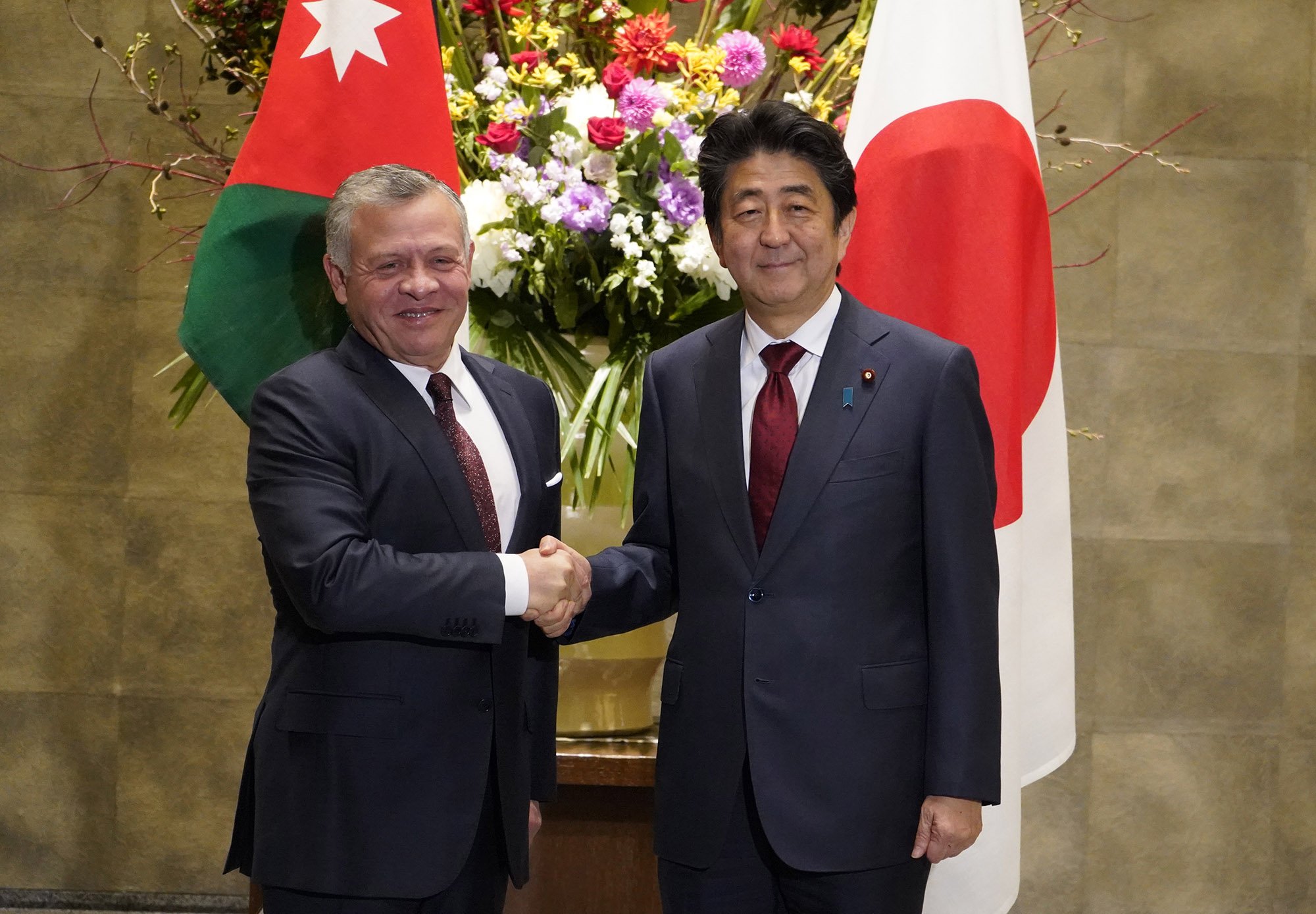 Introduction
Japan imports approximately 90% of its crude oil from the Middle East[1] so that it is tremendously significant for Japan to ensure peace and stability in this area, which lays the foundation for international order and directly connects to national security the world over. In response to the 2015 Terrorist Incident regarding the Murder of Japanese nationals and Jordanian pilot, Japan realized the importance of strengthening the bilateral cooperation including counter-terrorism measures[2] with Jordan in order never to have such a tragedy again. This article will argue Japan's foreign policy towards Jordan, the relationship between two countries, and describe possible ways of future cooperation.
How Japan introduced to the Arab world
Japan has been recently playing a leading role in Asia politically and economically. Japan thinks that what becomes a key to promote peace and stability in the international society is the dynamism that is created by two continents and two oceans: Asia and Africa, Pacific and Indian Ocean. Hence, the Japanese government announced in 2016 a new plan called "Free and Open Indo-Pacific(FOIP) " , which regards these regions as international public goods. In fact, the Indo-Pacific area is at the present tackling a lot of challenges such as attempts to change the status quo, piracy and extremism. In this state of affairs, Japan tries to make the Indo-Pacific free and open through fostering rule-based international order. However, due to Russia's aggression against Ukraine, this concept is threatened and under severe circumstances, and the world seeks for the idea common to all of us. Whilst the current situation without any consensus for the next period, the "FOIP" serves a vision that gains in relevance in order to look for working together in the international community[3]. It is as well essential for the Arab world to guarantee peace, stability and prosperity on the basis of the rule of law. Japan considers Jordan a regional hub in order to spread the "FOIP" vision around the Middle East.
The relationship between Japan and Jordan
Overview
Japan established a diplomatic relationship with Jordan in 1954, and opened the Embassy of Japan in Jordan and vice-versa in 1974. Since then, they have enhanced their connections based on high ranking exchanged visits between the imperial family of Japan and the royal family of Hashemite. Since the peak of the COVID-19 passed away, high-level mutual visits have resumed. Deputy Prime Minister and Minister of Foreign Affairs and Expatriates Ayman Al Safadi paid an official visit to Japan in March 2023 . After one month, King Abdullah Ⅱ, accompanied with Queen Rania and Crown Prince Hussein, had a meeting with Japanese Emperor Naruhito and Empress Masako as well as various high-level government officials. On the other hand, Minister of Economy, Trade and Industry Nishimura and Minister of Digital Kono visited Jordan to accelerate mutual cooperation in respective January and July 2023. Princess Takamado and Princess Tsuguko attended the Hashemite royal wedding in June 2023.
Diplomatic Relationship
The two countries also successively cooperate not only with each other but also in the international arena as partners in building the regional/international order. For instance, Japan, as well as the U.S. have been calling on their allies to abandon relationship with North Korea because North Korea had been continuing provocations, ignoring the repeated warnings by the international community. The royal decree declared that Jordan cut diplomatic ties with North Korea coming months after the same decision by gulf countries at the beginning of 2018. Japan highly commends Jordan's efforts and calls on relevant parties for easing tensions in the Middle East. Japan fully recognises the importance of Jordan located in a special geopolitical position surrounding conflict zones and affirms the crucial role of the Hashemite Custodianship over the holy sites in Jerusalem[4]. Under this situation, the two countries also agree on keeping the momentum of the Middle East Peace Process. Maintaining and strengthening the free and open international order based on the rule of law are the fundamental idea of Japan's foreign policy, therefore, Japan expresses a big gratitude for Jordan's efforts towards a "two-state solution" which embodies the idea.
Political and Economic cooperation
In 2018, Japan and Jordan concurred in upgrading their relationship to a "strategic partnership" so that there are high expectations for developing a good deal of cooperation from a political and economical perspective. King Abdullah Ⅱ discussed economic cooperation and regional affairs with Japanese Prime Minister Kishida during his visit to Japan[5]. At the summit meeting, the two leaders confirmed that they will continue to work together toward the stability of the region, as it did in Jordan that hosted the five-party meeting with Egypt, the United States, Israel, and Palestine. Following the summit meeting, the two countries held the first cyber security consolation last June, 2023 in order to exchange views on the current state of affairs in the cyber area. Japan considers Jordan as a cornerstone of stability in the Middle East, in order to ensure stability, security and prosperity of this region[6]. In terms of security cooperations, the Noncombatant Evacuation Operation training of the Japan Self-Defence Forces (Operation: 04 Furnace Darter) was held in Jordan on December 2021 with the cooperation from Jordan Armed Forces[7]. This training was carried out for the first time in the Middle East for Japan.
What made Japan do so ? It is true that the bilateral relationship has been widely expanded as they share fundamental values and ideas from the political aspect, however, that is not everything. What I emphasize on is that there is mutual trust between the two countries fostered by economic cooperation, which involves many stakeholders including private companies, educational institutes, for a long time. The government has limited resources, making it difficult to ensure certain quantities, thus, private sectors' support will be essential. Japan's advanced technology and skills can be of benefit to the Hashemite. The development of Jordan's economy will create jobs and generate a virtuous circle of growth and distribution. That is what Jordan needs in order to overcome its crisis. Even though Jordan faces constant water shortage, high unemployment rate, and economic and social burdens due to the large influx of refugees, Japan continues to steadily provide assistance in line with Jordan's needs and to promote trade and investment relations at the private sector level.
Japan's aid to Jordan
Nevertheless, just because development aid that focuses on quantity over quality would be submitted, it does not mean that the sustainable society will come true. I suppose that long-lasting initiatives will cultivate mutual relationships of trust through deeper understanding. According to the report published by the Embassy of Japan in Jordan, Japan's total aid to Jordan amounts to 4,034 USD as of March 2022[8], which focus on maintaining the stability and promoting the industrial fundamentals. One of the most significant projects is the concept of "The Corridor for Peace and Prosperity"[9]. It aims at realizing sustainable peace all over the Middle East and it is markedly important for Jordanian and Palestine people to develop fundamental economic growth with neighborhoods' cooperation to accomplish a "two-state solution". The private sector assumes the key position to promote sustainable economic development. In particular, Jericho Agro-Industrial Park is the flagship project of this idea because agriculture takes a leading initiative in regional revitalisation. At the present, they mainly manufacture sabbons and supplements made of Palestinian products that promote territorial cooperation for prosperity by facilitating the transportation of goods.
Furthermore, to mark the 70th anniversary of establishing diplomatic relations in 2024, the Jordan Japanese Friendship Association was launched at which Prince Hassan took up the presidency[10]. This partnership was designed to stimulate exchanges between not only businesspersons but also students. Academic cooperation is a pivotal aspect of their relationship. It gives Jordanian students the opportunities to conduct research in Japan in a wide range of fields. Continuing these activities will enable young people to enrich their future and create a win-win situation for the two sides, which will pay off in future cooperation.
Conclusion
All of the above, while Japan and Jordan are geographically distant, the two countries have close ties rooted in history and tradition at all levels, and share fundamental values of the international community. I think that now is an opportune moment for both of them to enhance the collaboration in many fields.
---
[1] https://www.iea.org/articles/japan-oil-security-policy# 
[2] https://www.mofa.go.jp/press/release/press3e_000031.html
[3] https://www.mofa.go.jp/mofaj/files/100495305.pdf
[4]https://rhc.jo/en/media/news/king-urges-international-community-stand-against-measures-undermine-historical-legal
[5]https://rhc.jo/en/media/news/king-urges-international-community-stand-against-measures-undermine-historical-legal
[6] https://www.mofa.go.jp/me_a/me1/jo/page7e_000021.html
[7] https://www.jordan.emb-japan.go.jp/files/100435769.pdf
[8] https://www.jordan.emb-japan.go.jp/files/100408189.pdf
[9] https://www.jica.go.jp/english/overseas/palestine/index.html
[10]https://jordantimes.com/news/local/prince-hassan-presides-over-launch-jordanian-japanese-friendship-association